4th Discipline: First off, congratulations on your amazing performance in Hamburg! How was it like going into the event, and how was the experience competing in this "new normal"?
Morgan Pearson: I had a good experience in both the Individual and Relay. In the individual race, I was super excited because I knew I was fit but also a bit nervous because I hadn't raced for so long. I knew that everyone would be in a similar situation. During the race, I didn't notice a huge change in the atmosphere. Of course, there were no fans but when you haven't raced in so long you almost forget what that is like.
When it came to the relay, I was feeling tired from the race the day before. I wanted to conserve as much as possible for the end of the race because I thought it would be a sprint finish. I was wrong and despite it being close on the swim, it became a time trial bike situation.
Outside of a few key guys missing, I would say it was a super competitive race. Everyone at that level was training hard all summer.
4th D: What were your goals going into the race?
MP: The first goal was to have a positive experience, which it was! The goal for me is always to win but before the race, I thought I could definitely finish in the top 10!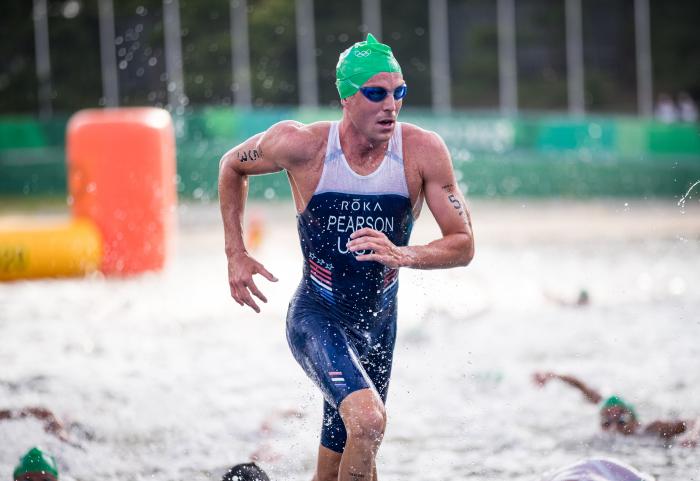 Credit: triathalon.org
4th D: What have you paid particular attention to over lockdown?
MP: Over lockdown, I have tried to increase my bike and run volume. I have also worked on run speed work, and bike skills. In the past few weeks, I have been working with Claire to optimize nutrition as well. I am still learning, and believe I have a long way to go.
4th D: Your medal in the relay was incredible! What are your next plans as a team to turn silver to gold in the build-up to Tokyo?
MP: Thank you! Simple, get a little bit better every day. We only finished 8 seconds back and I was closing hard on France. The French are really clean in transitions and the technical aspects of the sport - in fact, that's where he gapped me, in T1. Personally, I will practice this sort of thing. Hopefully, some races in there too will help me with it.
4th D: How have you found working with 4th Discipline so far?
MP: I have enjoyed working with Claire. Claire is really positive and does an amazing job of helping me see the many ways I can improve my nutrition without being overwhelming.
Nutrition is important to me because I want to be the best. At this level, everyone is talented and everyone works hard. How you improve in other ways can be the big difference on race day.
So far we've focused on a training nutrition plan but we plan on mapping out some race nutrition including the days leading into the race. Claire has pointed out that I often eat the right foods but either not at the right times or not in the proper portions so we're working this out and I am working to improve it. I'm really looking forward to seeing how my performances are in the future after applying all this stuff.
Any serious athlete who wants to improve their performance OR just wants to be healthier, in general, should really consider working with 4thD. When you're fuelling well you train and recover better. Over the course of a few weeks, months, or years that consistent extra layer of training can turn from a small little change to a huge one!
Thanks to our Ambassador Morgan for taking the time to contribute for our Q+A! Connect with Morgan on instagram
Keep following along with the 4th Discipline Instagram to stay updated.
Ready to optimize yourself for sport and life? Book a free discovery call today!
Written by: Claire Fudge, Clinical Dietitian and High Performance Nutritionist